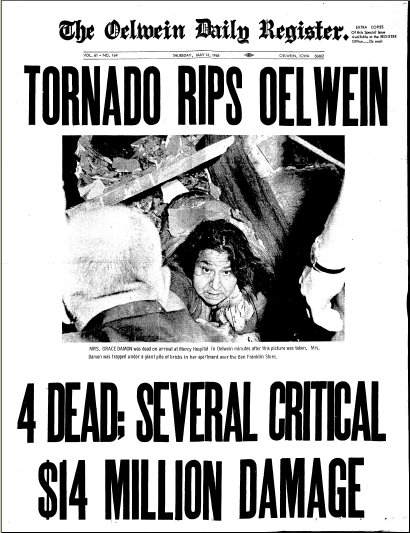 NOTE: The woman on the front page of the Oelwein Daily Register (above) died shortly after the picture was taken. She was one of the 2 fatalities in Oelwein, the other 2 mentioned in the newspaper were from nearby Maynard.
On the afternoon of May 15, 1968, an F5 tornado moved through Butler, Chickasaw, Floyd, Franklin, and Howard Counties in northeast Iowa. The tornado moved northeast from north of Hansell, passing east of Aredale, west of Greene, east of Marble Rock, and devastating Charles City. The tornado grew larger and more intense as it approached Charles City, striking the city at approximately 4:50 pm. The huge tornado passed directly through town, destroying 337 homes and 1250 vehicles, and causing about $30 million in damage.
Ironically, the tornado damaged 8 churches in town, but left the bars standing. Debris from Charles City was found as far away as LeRoy, MN, nearly 35 miles to the north. The tornado continued to the northeast hitting Elma, where it caused another $1.5 million in damage. From Elma the tornado turned to the north and dissipated south of Chester, 4 miles south of the Minnesota border. The tornado was on the ground for 65 miles, reaching a width of 400 yards. Nearly 2000 homes were damaged or destroyed. All 13 deaths occurred in Floyd County. 450 injuries were reported in Floyd County and 12 injuries in Howard County.
On the same day, another F5 tornado moved north-northeast from southwest of Oelwein to Maynard and east of Randalia in Fayette County, IA. Homes were leveled and swept away in both Oelwein and Maynard. The warning sirens sounded for only 15 seconds before power failed in Oelwein. Nearly 1000 homes were damaged or destroyed along the path, and 34 people had to be hospitalized. Almost 1,000 families were affected. The damage from this tornado totaled $21 million.
In addition to these F5 tornadoes, an F2 tornado touched down 6 miles south of Cresco, IA, two weak F1 tornadoes touched down in Dodge County, MN, and F1 tornadoes occurred in Fillmore County, MN and Chickasaw County, IA. Baseball size hail (2.75″) also fell in Fayette County, IA.
It is interesting that Charles City was hit by their F5 tornado at 4:50pm and 7 minutes later Oelwein was hit by their F5 tornado.