When you think of April, you think of trees budding, grass beginning to turn green, flowers starting to poke out of the ground and bloom, farmers getting into their fields to prepare for Spring Planting and the first days you're able to open the windows and let the fresh warm spring air in after a long winter. Mother Nature had other ideas on April 8th-10th 1973 when a freak blizzard raged across the state.
The NAO (North Atlantic Oscillation) and the AO (Arctic Osscillation) had been positive to begin the month of April 1973, but it quickly went negative allowing cold air to rush southward into the northern portions of the country.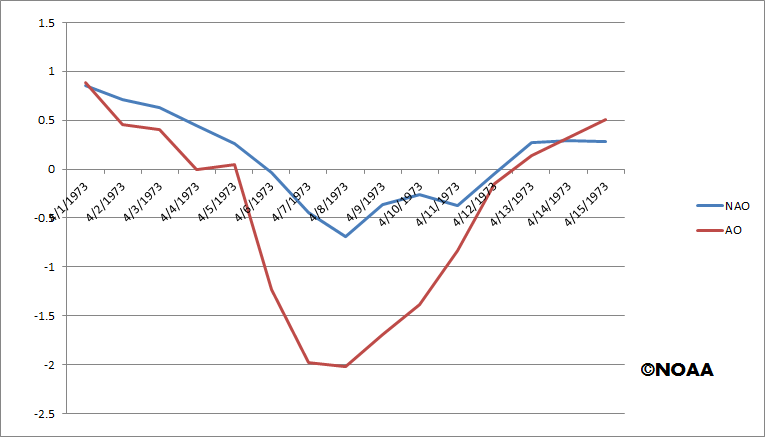 A 1040mb high was situated south of Churchill Manitoba Sunday Morning the 8th with a cool east to northeast wind blowing across the state. A storm system was developing to our southwest with some rain and snow across the central and southern Plains. Omaha was reporting snow already that morning with visibilities down under a mile.
A low pressure center formed over northwestern Arkansas and quickly moved north northeastward to near Keokuk by Monday Morning the 9th. Along with the slightly weaker 1032mb High over northwestern Ontario, winds between that and the 992mb low at Keokuk brought winds of 50-70mph across the state with the heavy wet snow.
The storm began to fill as it continued moving northeast and with the high pressure weakening over Ontario, the winds began to lighten across the state. The snow ended across the state Monday night into Tuesday morning but what was left in its wake was mind boggling.
SNOW TOTALS: Some of the totals included 19.2″ at Dubuque (then a record for largest snowstorm on record), 19″ at Grundy Center, 20.2″ at Belle Plaine (the largest total from storm), Waucoma 16″ New Hampton, Harcourt, Elkader and Decorah 15″, Parkersburg and Cascade at 14″, Clutier, Mason City, Shell Rock and Cresco at 13″ Des Moines 12″ (13.8″ for the entire system), Cedar Rapids, Indianola, Knoxville, Creston, Corydon, Northwood and Popejoy 12″, Osage, Fayette, Clarence, Mount Ayr, Zearing and Gilman 11″, Waterloo, Conrad and Hubbard at 10″ Lamoni and Ottumwa 9″. The northwestern and far southeastern counties of the state were spared with little or no snow, (far SE Iowa got over an inch of rain with very little snow). Waterloo and Des Moines broke their April Snowfall records at the time with 10.3″ and 15.1″ respectively, (Des Moines' record would be broken in 1982 with 15.6″)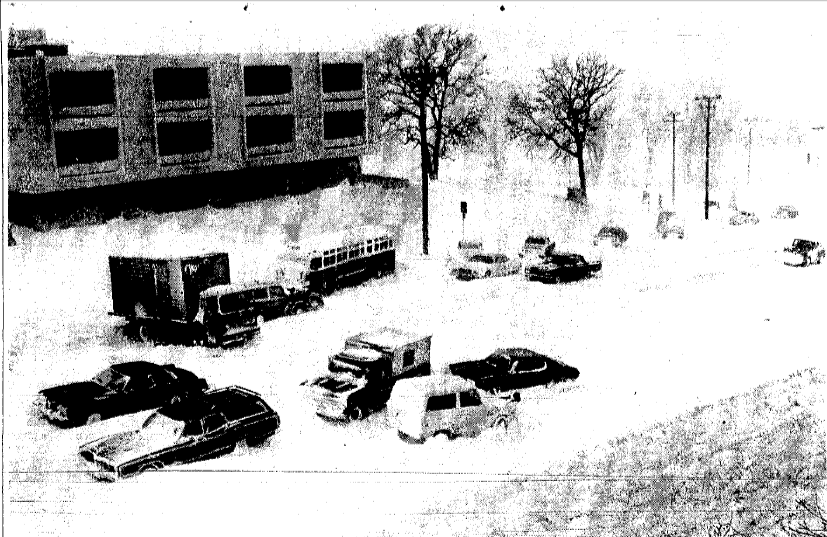 14 were reported as killed by Wednesday as the digging out began. Several of the victims had died from heart attacks in relation to shoveling or plowing the heavy wet snow. People weren't the only victims of the blizzard, several thousand cattle and calves along with an estimated 120,000 Turkey Poults also died in the storm. Even those that had survived, farmers feared that with the quick melting of the snow, more would end up getting sick and or die due to the amount of mud that was expected to be left after the snow had melted.
As quickly as the snow fell, it melted with some areas having seen all their snow melted away by Tuesday evening. Example in Corning in Adams County where 6″ of snow fell and melted off leading to a soggy mess on many of the county roads there. Roads were clogged for several days with several roads blocked by drifts over 14 feet tall in some areas (especially northeast Iowa) Iowa State and the University of Northern Iowa were closed both Monday and Tuesday due to the storm while the University of Iowa in Iowa City continued to hold classes (due to much less snow there)
People that were left stranded by the storm went where they could and slept where they could, in restaurants, farmhouses, service stations, community buildings. Cars were stranded for days on the interstates which made clearing the snow even more challenging than it already was with the heavy wet snow and two story like drifts. Within a few days, temperatures quickly warmed, the snow melted and it was back to opening windows and waiting for trees to bud and flowers to bloom.

If anyone has any memories of the Blizzard of 1973 please comment below or email them to [email protected]
It is of note, a certain Groundhog that year did see his shadow and said there would be 6 more weeks of winter.