The Iowa Tornado Outbreak of 2005 occurred on Saturday November 12th, 2005. Temperatures were in the low 60s on Saturday.
A vigorous system moved eastward from the plains. The SPC had a slight risk of severe weather for most of Iowa that day. Thunderstorms began early in the afternoon and by 4pm the storms began rotating. Tornadoes touched down in Boone and Dallas counties and began moving NE. Stratford and Woodward were the hardest hit communities. One person was killed in Stratford, numerous people were injured. The storm that produced the Woodward tornado produced numerous other tornadoes including one north of Madrid, one near the west side of Ames that moved NE to near Story City and another one near Roland. An Iowa State Football game aganist Colorado was set to begin at 6pm. Shortly before 5pm the stadium and surrounding area was evacuated due to a tornado being sighted near Ames. The tornado missed the stadium by 5 miles to the NW however, the tornado was visible at the stadium and from the webcam atop the Agronomy building at Iowa State's campus.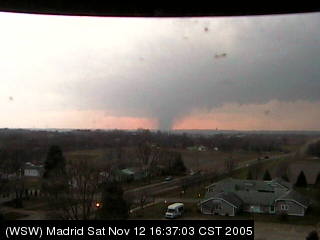 This tornado outbreak produced 15 tornadoes, 13 of which were in Iowa. It was the largest outbreak of tornadoes in Iowa for the month of November and one of the largest outbreaks that far north and west for so late in the year.