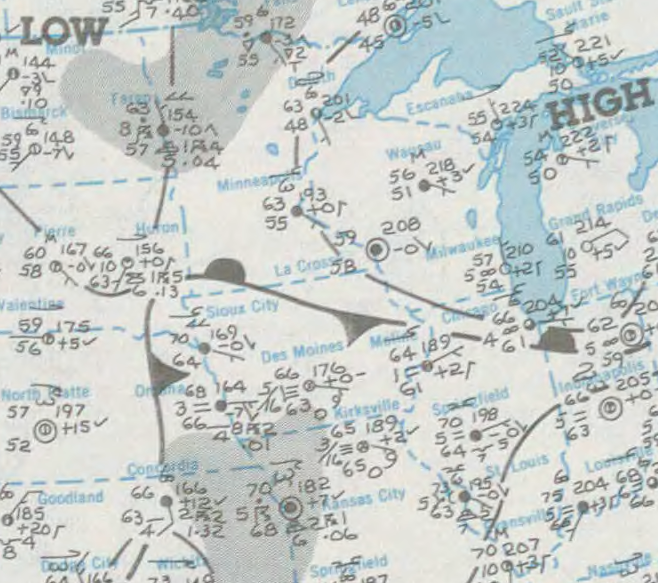 Tornadoes in the midwest mainly come from the southwest and move toward the northeast, but at least 1/3 of them move from northwest to the southeast. This was the case on June 28, 1979, when 27 tornadoes dropped out of the sky and moved mainly in a northwest to southeast pattern. The first tornado of the outbreak occurred at 1:45pm just south of Fargo ND. Soon tornadoes dropped in Minnesota as the system moved southeastward.
The first tornado in Iowa hit NW of Algona before 7pm, near the town of Armstrong. Another tornado began SE of the first one and began moving SE toward Algona. The sirens were sounded across the county seat of Kossuth county early that Thursday evening. The tornado moved into the northside of Algona destroying a shopping center. Many in town believed that with Algona situated on the East Fork of the Des Moines River would be safe from tornadoes. The tornado didn't agree and in fact took water from the river and deposited it in adjacent areas around. Houses were turned into rubble. Prior to the tornado's arrival at Algona, the Kossuth County Civil Defense Director Bob Engstrom gave a slide presentation on tornadoes at the North Park Shelter House in Algona. After the meeting adjourned, the tornado arrived with audio and visual aids. As the tornado moved began to move into Algona, another town 50 miles to the south southwest, the town of Manson was about to get hit by a tornado.
The tornado which moved slowly across the countryside was seen by many residents in Manson before the white twister moved into the town from the northwest.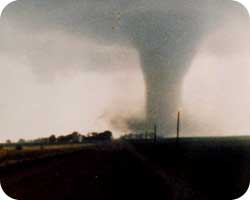 The F4 tornado smashed into the town around 7:45pm (the time the clocks stopped in Manson) destroying every house and business in its path. The oddity of it all was that the town was bathed in sunshine during the tornado. After the tornado mowed through the town, one could look from one end of town to the other only seeing piles of rubble.
3 women were killed in Manson along with 2 others in Algona. The tornadoes continued touching down until 10pm when the last tornado of the outbreak touched down near DeSoto, west of Des Moines.
Feathers reportedly fell from the sky that night between Story City and McCallsburg in Story County northeast of Ames. The feathers supposedly came from a destroyed turkey farm near Manson, 55 miles to the northwest. Several cancelled checks fell from the sky in and around Hampton (in Franklin County). The checks came from Algona.
Chronicle Telegram Elyria Ohio 1979-06-29
Tornado Accounts of Tornadoes in Iowa Second Edition by John L Sanford 1987, pages 100-111.