Real-time reports are critical in issuing warnings and saving lives. That's an indisputable fact. Spotters are provide this real-time ground-truth of local conditions - such as hail size, wind speed, tornado development, and local damage - to help warn the public. Even as new technology allows the National Weather Service to issue warnings with greater lead time, spotters will always serve as a critical link between radar indications of severe weather and what's happening on the ground.
Who are spotters? Virtually every community has some form of spotter network. Often, local fire and police personnel are trained to observe and report severe weather, partly due to their extensive radio communication and 24-hour operations. Citizens may also be an active part of the spotter network, some with an avid interest in the weather and many without. Some spotters are amateur radio operators. All share a sense of responsibility to their neighbors.
What is SKYWARN? SKYWARN is a program sponsored by the National Weather Service. The program is made up of thousands of volunteers who attend regular training and then scan the skies of their communities identifying and reporting critical storm information. These volunteers, sometimes organized under the SKYWARN banner in the U.S., are typically trained by NWS forecasters to be the eyes and ears of both the warning forecasters and the local public safety networks.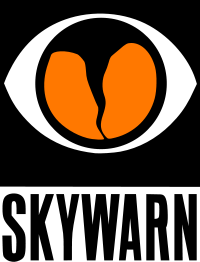 For a list of which counties in each office and more information on how to report:
National Weather Service Des Moines, Iowa

Adair, Adams, Appanoose, Audubon, Black Hawk, Boone, Bremer, Butler, Calhoun, Carroll, Cerro Gordo, Clarke, Crawford, Dallas, Davis, Decatur, Emmet, Franklin, Greene, Grundy, Guthrie, Hamilton, Hancock, Hardin, Humboldt, Jasper, Kossuth, Lucas, Madison, Mahaska, Marion, Marshall, Monroe, Palo Alto, Pocahontas, Polk, Poweshiek, Ringgold, Sac, Story, Tama, Taylor, Union, Wapello, Warren, Wayne, Webster, Winnebago, Worth, Wright



TORNADOES: 1-800-SKYWARN
Email: [email protected]
Text Message: (515) 240-5515
Telephone: 1 (800) SKYWARN
Twitter: @NWSDesMoines.
mPing
Amateur Radio: KØDMX.
National Weather Service Quad Cities, Iowa/Illinois

Benton, Buchanan, Cedar, Clinton, Delaware, Des Moines, Dubuque, Henry, Iowa, Jackson, Jefferson, Johnson, Jones, Keokuk, Lee, Linn, Louisa, Muscatine, Scott, Van Buren, Washington



TORNADOES: 1-800-SKYWARN
Telephone: 1 (800) SKYWARN
Twitter: @NWSQuadCities.
mPing
National Weather Service Sioux Falls, South Dakota

Buena Vista, Cherokee, Clay, Dickinson, Ida, Lyon, O'Brien, Osceola, Plymouth, Sioux, Woodbury
National Weather Service La Crosse, Wisconsin

Allamakee, Chickasaw, Clayton, Fayette, Floyd, Howard, Mitchell, Winneshiek


National Weather Service Omaha/Valley, Nebraska

Cass, Fremont, Harrison, Mills, Monona, Montgomery, Page, Pottawattamie, Shelby


Distance and direction from your location
Movement (tornado direction and speed)
Impacts: damage, injuries, fatalities
Tornado Behavior: growing larger? Roping out?
Wall cloud: Rotating? Persistent?
Funnel Cloud: How far to the ground Visible rotation with the funnel?
Dust or debris below the funnel? (if so, you have a tornado!)
Diameter of the largest hailstone (estimated or measured)
DO NOT report marble-sized hail! Marbles vary widely in size.
Damage to windows, cars, crops, etc.
Wind speed (estimated or measured)
Damage to trees, power lines, and structures
Trees: Diameter of limbs snapped off and health of tree (old or rotten?)
Flood Impacts: Roads, houses, etc.
Depth of the water
Is the water moving swiftly or slowly?
Damage: Roads washed out, etc.
Rainfall amounts & how quickly it fell
Amount: (measured or estimated) Take multiple measurements and average them if possible.
Damage or impacts such as downed power lines, snapped tree limbs, cars off the road, etc.
NWS La Crosse, who covers the northeastern part of the state, unfortunately doesn't offer a Google Calendar to view their spotter dates. Spotter training dates for those in Allamakee, Chickasaw, Clayton, Fayette, Floyd, Howard, Mitchell, and Winneshiek counties can visit this page for information regarding training dates.
Amateur Radio Operators are a vital link in the spotter and communication network used by the NWS during severe or otherwise inclement weather and provide a reliable means of communications to NWS offices should normal communication modes fail. Below we have listed some of the repeaters (left) that we have found and the common frequencies otherwise used by chasers and spotters. We are still researching western Iowa frequencies, there are no organized amateur radio pages from the National Weather Service offices in Sioux Falls or Omaha.
Weather Radio Frequencies
| | | | | | |
| --- | --- | --- | --- | --- | --- |
| 162.400 MHz | 162.425 MHz | 162.450 MHz | 162.475 MHz | 162.500 MHz | 162.525 MHz |
| Frequency | Description |
| --- | --- |
| 146.550 MHz | Simplex frequency commonly used or monitored by chasers |
| 146.460 MHz | Alternate to 146.55 MHz |
| 223.520 MHz | Simplex 1.25 Meters |
| 446.075 MHz | Simplex Often used for cross-patching to 146.550 (70cm) |
| 446.100 MHz | Alternate to 446.075 |
| 1294.550 MHz | Simplex 23 cm |
Amateur Radio Frequencies
Location
Primary Freq
Primary PL
Secondary Freq
Secondary PL
Afton
442.400+
151.4
Anamosa
145.390
77.0
Baxter
442.225+
151.4
Bedford
147.135+
203.5
Burlington
146.790
Cedar Rapids
146.745
192.8
145.150
192.8
Clinton
145.430
100.0
Coralville
444.750+
151.4
Cresco
146.925-
103.5
Creston
146.790+
136.5
Decorah
146.670-
103.5
147.165+
123.0
Des Moines
146.820-
203.5
Dubuque
147.240
114.8
Fort Madison
146.865
100
Greenfield
444.500+
173.8
Grimes
146.610-
114.8
443.400+
151.4
Iowa City
146.850
192.8
145.270
192.8
Lenox
146.880-
136.5
Mason City
146.760-
103.5
147.315+
203.5
Menlo
147.045+
114.8
Mount Pleasant
147.390
100.0
Muscatine
145.370
100
145.370
100
Newton
442.300+
151.4
Osceola
147.210+
114.8
Pella
145.170-
203.5
Quad Cities
146.880
77.0
146.700
Scranton
444.300+
151.4
St. Ansgar
147.195+
103.5
Washington
147.045
443.000
100
Williams
444.500+
151.4
MURS
Multi-Use Radio Service
Unlicensed
Transmitter Power Output limited to 2 Watts
Repeaters Not Allowed
| Frequency | Bandwidth |
| --- | --- |
| 151.820 MHz | 11.25 KHz |
| 151.880 MHz | 11.25 KHz |
| 151.940 MHz | 11.25 KHz |
| 154.570 MHz | 20.00 KHz |
| 154.600 MHz | 20.00 KHz |
Unlicensed
Restricted to 0.5 Watts
Repeaters Not Allowed
Chan
Freq
Shared?
1
462.5625 MHz
Yes*
2
462.5875 MHz
Yes*
3
462.6125 MHz
Yes*
4
462.6375 MHz
Yes*
5
462.6625 MHz
Yes*
6
462.6875 MHz
Yes*
7
462.7125 MHz
Yes*
8
467.5625 MHz
No
9
467.5875 MHz
No
10
467.6125 MHz
No
11
467.6375 MHz
No
12
467.6625 MHz
No
13
467.6875 MHz
No
14
467.7125 MHz
No
*License required on the frequency if using more than the 0.5 Watts, up to the 5 Watt Maximum
GMRS
General Mobile Radio Service
FCC License Required
Allowed to 50 Watts, Except on FRS/GMRS Shared
Repeaters Allowed (Upper Frequency is for Repeater Inputs, Lower for Output/Simplex)
Use of 650 and 700 channel pairs is prohibited near Canadian border. See FCC website for details.
675 channel is suggested nationwide emergency and road information calling. Nationally recognized coded squelch for 675 emergency repeater operation is 141.3 Hz.
| Chan | Low Freq | High Freq |
| --- | --- | --- |
| 550 | 462.550 MHz | 467.550 MHz |
| 575 | 462.575 MHz | 467.575 MHz |
| 600 | 462.600 MHz | 467.600 MHz |
| 625 | 462.625 MHz | 467.625 MHz |
| 650 | 462.650 MHz | 467.650 MHz |
| 675 | 462.675 MHz | 467.675 MHz |
| 700 | 462.700 MHz | 467.700 MHz |
| 725 | 462.725 MHz | 467.725 MHz |
EF Scale

| Category | Wind | Damage |
| --- | --- | --- |
| EF-0 | 65-85 MPH | Light |
| EF-1 | 86-109 MPH | Moderate |
| EF-2 | 110-137 MPH | Considerable |
| EF-3 | 138-167 MPH | Severe |
| EF-4 | 168-199 MPH | Devastating |
| EF-5 | 200+ MPH | Incredible |
Beaufort Scale

| Wind Speed | Description |
| --- | --- |
| 1-3 MPH | Wind motion visible in smoke |
| 3-7 MPH | Wind smoke felt on exposed skin, leaves rustle |
| 8-12 MPH | Leaves and small twigs in constant motion |
| 13-17 MPH | Dust and loose paper raised, small branches move |
| 18-24 MPH | Branches of a moderate size move, small trees begin to sway |
| 25-30 MPH | Large branches in motion. Whistling heard in overhead wires. Umbrella use becomes difficult. Empty plastic garbage cans tip over. |
| 31-38 MPH | Whole trees in motion. Effort needed to walk against the wind. Swaying of skyscrapers may be felt, especially by people on upper floors. |
| 39-46 MPH | Twigs broken from trees. Cars veer on road. |
| 47-54 MPH | Larger branches break off trees, and some small trees blow over. Construction/temporary signs and barricades blow over. Damage to circus tents and canopies. |
| 55-63 MPH | Trees are broken off or uprooted, saplings bent and deformed, poorly attached asphalt shingles and shingles in poor condition peel off roofs. |
| 64-72 MPH | Widespread vegetation damage. More damage to most roofing surfaces, asphalt tiles that have curled up and/or fractured due to age may break away completely. |
| >73 MPH | Considerable and widespread damage to vegetation, a few windows broken, structural damage to mobile homes and poorly constructed sheds and barns. Debris may be hurled about. |
Hail Size Chart

| Size | Description |
| --- | --- |
| 0.25" | Pea |
| 0.50" | Plain M&M |
| 0.75" | Penny |
| 0.88" | Nickel |
| 1.00" | Quarter |
| 1.25" | Half Dollar |
| 1.50" | Ping Pong Ball |
| 1.75" | Golf Ball |
| 2.00" | Lime |
| 2.50" | Tennis Ball |
| 2.75" | Baseball |
| 3.00" | Teacup |
| 4.00" | Grapefruit |
| 4.50" | Softball |
| 5.00" | CD/DVD |